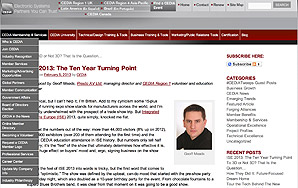 Posted On: 8th February 2013
So how was the ISE expo in this, it's tenth year?
Earlier this week CEDIA US asked us to put together a blog post about out ISE experience and we were delghted to contribute. It was simply superb show and a real "must see" for anyone even remotely involved in the Residential (or Commercial) installation industry.
Our post is now available on the CEDIA blog so why not head over there and check out when we thought! Thanks to CEDIA for the invitation to write for the blog!
Read our ISE 2013 Blog Post for CEDIA.
Share this page