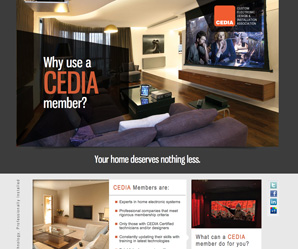 Posted On: 27th March 2012
We're proud to announce the launch of another exciting website for CEDIA. The new site, "Home Technology Installed" is aimed squarely at home owners and self-builders and sets out in clear, easy to understand terms the many advantages of working with certified CEDIA member companies.
The site is designed to communicate CEDIA's message in a simple, single page journey from general enquiry to member search and launches in time for CEDIA's presence at the Homebuilding and Renovating Show this weekend at the Birmingham NEC.
Matt Nimmons, CEDIA Operations Director, commented, "Having worked with Presto on the hugely successful CEDIA Education website, choosing Presto was an obvious choice. Their understanding of our industry and their ability to clearly communicate complex messages made them the ideal company to design our new, client focused site".
You can see the new site at www.hometechnologyinstalled.com
Share this page