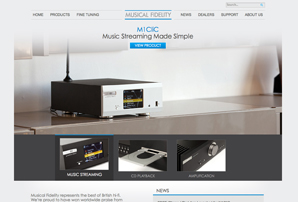 Posted On: 17th May 2012
Presto is proud to announce the launch of it's latest client website project for Hi-Fi electronics specialists - Musical Fidelity. With over thirty years of manufacturing history and some of the most legendary amplification products in the Hi-Fi industry's history books, Musical Fidelity never fail to impress with their engineering vision or product performance.
The site was designed to complement the company's core brand values and deliver a sublime browsing experience in the same way that Musical Fidelity products deliver fantastic music quality.
The site also delivers a newly developed graphical look for the company's marketing materials. Presto have also delivered a new colour-way and typography language within the website which will also feature in other company promotional material soon to appear and again designed by Presto.
Our MD, Geoff Meads commented "The Musical Fidelity project has been a delight to work on and we're really pleased to have helped shape the next generation of the companies corporate identity. The whole team here at Presto take enormous satisfaction in the contribution we've been able to make and look forward to future projects with the company".
Musical Fidelity are based in London UK and export to over 40 countries worldwide. Their new, Presto designed, website can be found at www.musicalfidelity.com
Share this page